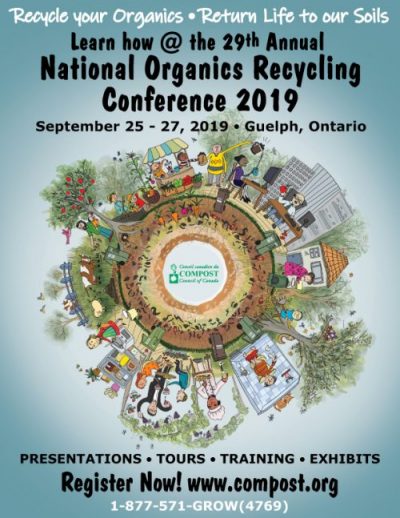 National Organics Recycling Conference
Thursday, September 26, 2019
Exhibit Hall opens at 8:00 a.m.
Advances in Organic Matters Session: 1:00 p.m. – 2:30 p.m.
Holiday Inn Guelph Hotel & Conference Centre
601 Scottsdale Drive,
Guelph, Ontario
N1G 3E7
The Compost Council of Canada would like to invite you to our 29th National Annual Organics Recycling Conference, which promises to bring together expertise in all aspects of organics recycling – from collection of feedstocks to processing, engineering, communication and compost markets. We will offer a diverse set of facility tours, a wide array of speakers, a trade show area featuring technologies and service providers, and networking opportunities you should be sure not to miss! Join the leaders in organics recycling as we dig deep into the latest developments and advances which will continue to build our industry's resourceful leadership in waste diversion, local environmental stewardship, energy recovery, climate change mitigation, water conservation, soil productivity and health.
National Organics Recycling Conference – Details & Information
Compost Council of Canada – Facebook Page