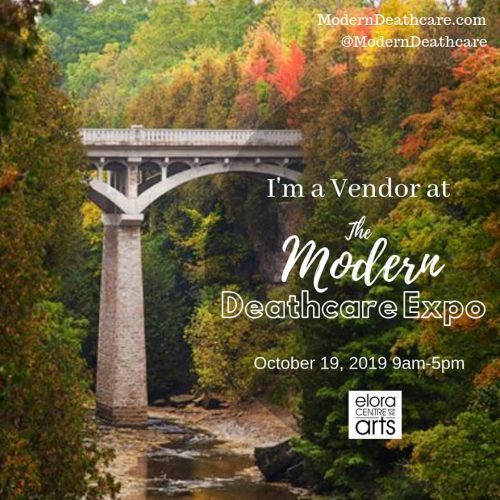 Modern Deathcare Expo
Saturday, October 19, 2019
9:00 a.m. – 5:00 p.m.
Elora Centre For The Arts
75 Melville Street,
Elora, Ontario
N0B 1S0
The mission of the Modern Deathcare Expo is to empower individuals in enacting family-led deathcare, to educate the public about the many end-of-life options available in Ontario and to assist with death planning well before there is a need. Our Speaker Gallery unfolds throughout the day with thought-provoking sessions on green burials, death planning, palliation at home, alternative funerals, home funerals as well as advocacy and legalities within the modern deathcare movement. The Vendor Marketplace features death doulas, memorial jewelry, end-of-life books and products, bereavement support resources and info on donating your body to science, plus meaningful interactive exhibits!
Modern Deathcare Expo – Details & Information
Modern Deathcare Expo – Facebook Page